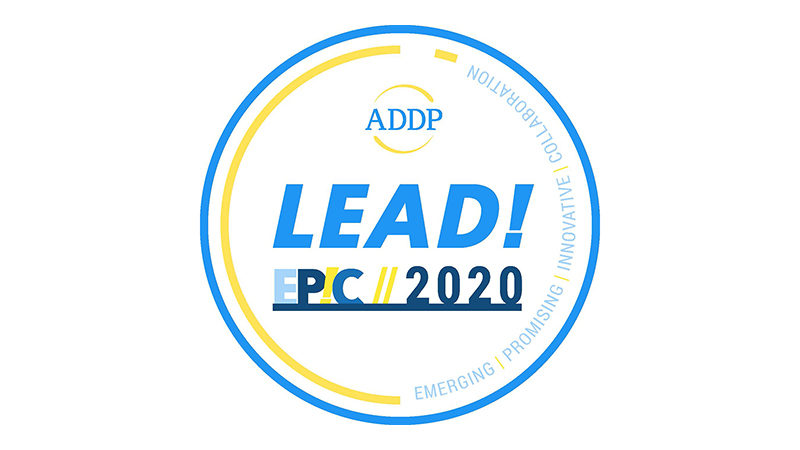 ADDP is pleased to announce that the 2020 LEAD! Conference will be held on Wednesday, April 29, 2020 at the DCU Center in Worcester, MA.
ADMISSION:
EARLY BIRD PRICING ENDS AT 5:00 PM on WEDNESDAY, MARCH 18, 2020
$160 ADDP Member Admission
$145 Group of 10 ADDP Member Discount
$210 Non-Member Admission
PRICING AFTER 5:00 PM ON WEDNESDAY, MARCH 18, 2020:
$185 ADDP Member Admission
$175 Group of 10 ADDP Member Discount
$235 Non-Member Admission
The fee includes breakfast, lunch, presentations, as well as your participation in professional development workshops!
Deadline to request an interpreter is Wednesday, April 3rd
Deadline to submit dietary restrictions is Wedesday, April 15th
Please note: we will not accept breakout session choices during registration. Attendees can choose which breakout session they would like to attend which gives participants the freedom to change their mind the day of the event if necessary.
CONFERENCE THEME/PROGRAM SCHEDULE
This year's LEAD! theme is Emerging, Promising and Innovative Collaborations (EPIC!). The Training and Conference Committee is busy preparing a full, informative and interesting day that highlights this year's theme. We will be releasing more information on the day as details emerge. In the meantime, we are pleased to announce this year's Keynote Speaker and Emcee for our event:
Keynote Speaker: Alice Brouhard, RN
Alice Brouhard RN is a champion of the use of technology, especially tablet technology, to support independence in individuals with memory and cognitive challenges. She has worked tirelessly to set up a system that allows her daughter who sustained a serious TBI to live independently despite significant disabilities.
She has presented nationally and internationally on the use of high tech and low tech options to promote self determination. Alice is a founding member of Colorado based "Families at the Forefront of Technology" and has served on the steering committees for their annual conferences. She has served on the Assistive Technology Coalition through the University of Colorado. Alice is passionate about the rights of people with cognitive disabilities to access technology and the internet.
Alice has been a TEDx speaker and her work and use of tech, has been featured in state and national publications.
She has developed and teaches classes at Colorado Mountain College on the use of iPads and iPhones.
Alice, and her husband and daughter live in Glenwood Springs, Colorado. They have been recipients of the Garfield County Humanitarian Service award -"Inspiring Hope."
Her favorite title is that of MOM…Master of Modifications
Conference Emcee: Alison Bologna
Alison Bologna is an award-winning news anchor at NBC 10 and the founder of Shri, a yoga outreach organization, which serves more than 8,500 students each year including adults living with intellectual and developmental disabilities, veterans, children in schools, men and women in shelters and those in recovery. More than half of Shri's programs are fully, self-funded through the 501(c)(3) non-profit organization Alison founded in 2012, Shri Service Corps.

Alison graduated on the dean's list from Harvard University in 2015 with a master's degree in English. Before that she graduated with honors from Columbia University's Graduate School of Journalism and earned her undergraduate degree from Northwestern University's Medill School of Journalism outside of Chicago.

In her news role, readers of Rhode Island Monthly magazine have voted Alison the top female reporter in the market for two straight years before voting her the best morning female news anchor every year since 2016. Prior to NBC 10, Alison anchored in Boston at Fox 25 News and produced undercover reports for "Dateline NBC" as one of the network's youngest producers in New York City.

Honors and awards for her journalism work include: an Emmy Award, an Edward R. Murrow Award, two Associated Press Awards, a Gracie Allen Award, an Investigative Reporters and Editors Award and two Clarion Awards. The Providence Business News named Alison as one of the "40 Under 40" professionals in the Ocean State, and the National Organization of Italian American Women honored Alison for her work in TV and in her community.

For her community and entrepreneurial work, which includes starting a nut-free snack line in 2014 that is now served in schools statewide and in retail markets under the Shri brand, Alison has received many other recognitions including: the Women of Excellence Community Award on behalf of The Women's Center of Rhode Island, The Rhode Island Small Business Journal's Entrepreneurial Woman to Watch Award 2014, the Volunteer of the Year Award from LIFE, Inc., a community leadership award from ARC of Blackstone Valley, the Person of the Year award from the Pawtucket Foundation in 2015 and recognition this year by the Domestic Violence Resource Center of South County.

Alison has also been honored with an advocacy award by Sen. Sheldon Whitehouse for her work with men and women in recovery, and the attorney general has presented Alison with a justice award, which is given to individuals in recognition of their extraordinary commitment to justice, consumer protection, law enforcement, community outreach, and senior and environmental protection.

Alison currently serves as a trustee at the Old Slater Mill Museum in Pawtucket and on the board of trustees for the Pawtucket Boys and Girls Club; for several years, Alison also served on the board for The Providence Center too
Do you have an example of the power of people working together to affect positive change? Was it creative and collaborative? Did it result in change? We want to hear about it!
The theme of the 2020 LEAD! Conference & Expo is Emergent, Promising, and Innovative Collaborations. This event will be EPIC for this reason. We are looking for examples where collaboration with others produced creative ideas that turned into action and resulted in a positive, significant change that had a direct impact on either: an individual served, an organization, or community.
Nominations are due January 30, 2020
If you'd like to submit a nomination, please CLICK HERE to complete a short questionnaire.
To review a list of last year's winners, CLICK HERE

The ADDP Training & Conference Committee is now accepting workshop proposals! The Committee is looking for proposals that inspire small or large-scale collaborations formed to develop solutions, ideas, and promising practices to common (and possibly every day) problems or ways of doing business in the I/DD, autism, or brain injury communities. New approaches, fresh perspectives, ambitious or pioneering ideas/projects, or pilot programs demonstrating innovative or creative ways of working with others to resolve problems are welcome!
Email your proposals to Robin Farrington, ADDP Senior Administrative Coordinator by December 18, 2019. You can dowload the form from this page (Check the Top of the Page Under Downloads).
Do you know a colleague who is a direct support professional or new manager seeking to advance their education? Could they benefit from a scholarship? We want to hear about it!
The Scholarship Award is an opportunity to acknowledge entry level human service workers who demonstrate commitment to advancing their education. Up to two awards may be named ($1,000 for each award).
If you'd like to submit a nomination, please CLICK HERE to complete a short questionnaire.