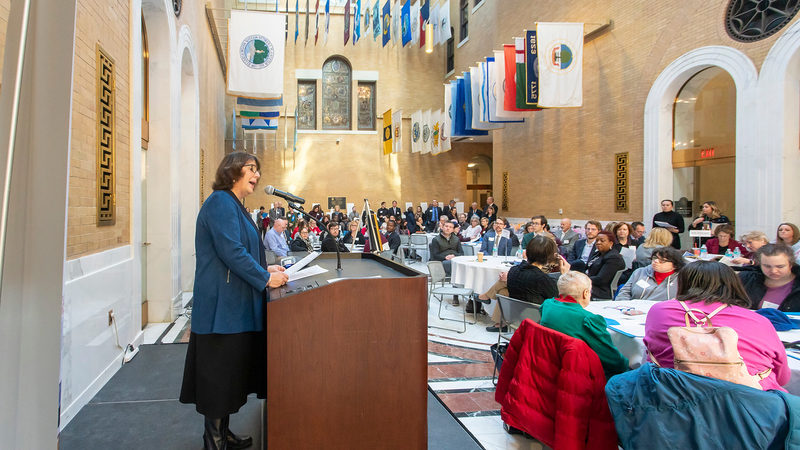 Legislators Honored With Paintings from Participant Artists
The Association of Developmental Disabilities Providers announced on Tuesday an unprecedented focus on human services workforce efforts to address the growing shortages in direct service staff, nurses and clinicians.
At its Beacon Hill legislative luncheon, leaders from the Association of Developmental Disabilities Providers (ADDP) said that their sole focus in the FY2021 state budget will be supporting the human services workforce. Without a significant investment in the workforce, the chronic and growing challenges of low pay, long hours and high turnover will continue to impact services provided by its member organizations to individuals with intellectual and/or developmental disabilities or brain injuries.
"This year, we made a historic decision to embrace the idea of having just one very important budget ask—supporting our workforce," said ADDP President Ellen Attaliades. "Human services staff work incredibly hard to support the disabilities community and provide a vital service, so we must do our part to ensure that we are able to recruit new staff into the field and ensure that existing staff are fully supported."
Before a group of more than 250 members and supporters, ADDP leaders thanked lawmakers who have been some of their strongest advocates and urged them to join the effort to support workforce investments for those who provide critical care to the disabilities community but are struggling to get by while doing the work they love. To address the workforce crisis in a meaningful way, ADDP is advocating for increased funding resources to begin to address recruitment and retention of the human services workforce.
ADDP also honored its Legislators of the Year at the luncheon—Senator Michael Rodrigues (D-Westport) and Representative Josh Cutler (D-Pembroke). Both legislators received artwork created by artists from Riverside Industries in Easthampton, MA. Coralie Donahue of Northampton, MA created the landscape painting awarded to Representative Cutler and Tony Sadlowski of Easthampton, MA created the State House painting awarded to Senator Rodrigues. Biographies for the artists and photos of the artwork are included below. Representative Cutler was present at the luncheon and Senator Rodrigues will be honored in a special ceremony in the spring.
"I want to thank Ellen Attaliades and ADDP for honoring me with the Legislator of the Year award," said Representative Cutler. "ADDP is a highly respected organization. Whenever I am considering legislation that impacts the disabilities community, ADDP is always the first organization I look to for guidance. I look forward to continuing to work with them and the rest of the WorkAbility sub-committee to support the human services workforce and individuals with disabilities in the workforce."
CONTACT:
Patty Ames, pattyames@addp.org, 508-689-7381
********
About the Artists
Tony Sadlowski Biography:
Tony lives in Easthampton, MA and has been working at Riverside Industries for more than 40 years. The opportunity to study art through Riverside brought Tony's innate talent to light and has allowed him to explore new materials and techniques. His favorite subjects include modes of transportation, with an emphasis on trains and railways. However, Tony is always intrigued by a challenge and enjoys exploring new themes. Tony's talent and ability in art has earned him respect and admiration throughout the community. The excitement that he experiences in pursuing his art, and his steadiness in meeting new challenges presented through art, enrich his life, along with the lives of all who come into contact with the work of this remarkable artist.
Coralie Donohue Biography:
Coralie Donohue is an artist from Northampton, MA who specializes in landscape painting. Coralie navigates the limitations of her disability while expressing herself through her artwork. She discovered her love of art through her mother, but didn't begin to develop her style until she started attending Riverside Arts. Now, she is one of the most sought-after artists in the program. Coralie has been exploring impressionist, abstract landscapes using a palette knife painting technique and oil paints. These paintings are rich, layered, and textured. She creates colorful scenery that transports the viewer to a new place. She is proud of each painting she creates and hopes to exhibit her artwork to a wider audience in the near future.