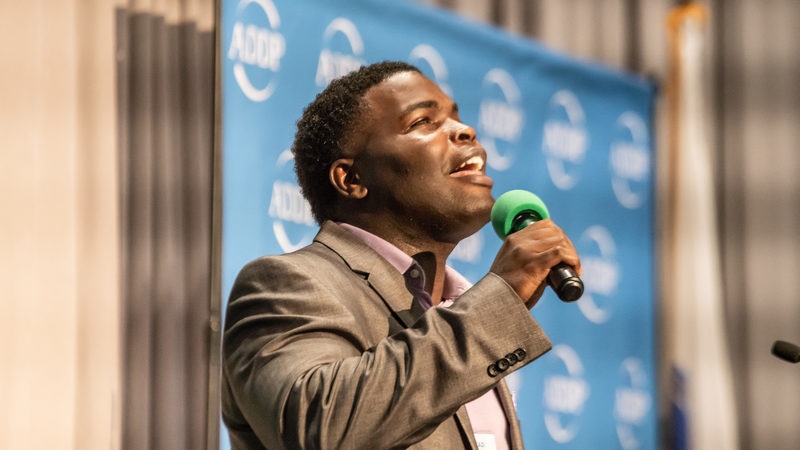 During his remarks to the capacity crowd of 820 at Worcester's DCU Center, singer and inspirational speaker Mario Arnauz Bonds paused for a moment before breaking into his new song, "Steel."
"Know who you are," he sang. "You are a star."
Bonds, the keynote speaker at the 2018 Association of Developmental Disabilities Providers LEAD! Conference on April 12, brought the crowd to its feet multiple times. His hour-long speech was a highlight in a day filled with them.
"Best conference ever," one attendee wrote on the mobile app, which debuted at the conference and was essential for connecting with friends and colleagues, and for navigating the day's full agenda.
Most would agree. It started with Bonds' amazing story of overcoming countless obstacles to become the person he is today.
Bonds' rise to fame began with his participation on the television reality show, "The Glee Project." But, as he described to those in attendance, the hard work it took to become a Top 10 finalist out of 88,000 contestants began in a childhood. He was born with Morning Glory Syndrome, a degenerative disease which robbed him of his sight when he was nine. He bounced between relatives' homes in his younger years, was forced to start at new schools multiple times, where he always had to re-prove himself to students, teachers and administrators.
Eventually, he said, he became an expert in turning his perceived disability into an ability. And that is a message that resonated with the attendees and carried on throughout the rest of the day.
There were also welcoming remarks from Daniel Tsai, the Assistant Secretary of MassHealth, who talked about the Baker Administration's commitment to people living with developmental and intellectual disabilities, as well as 14 breakout sessions, which focused on topics ranging from worker safety to preventing sexual violence.
Additionally, there were more than 40 exhibitors who were integral in giving the LEAD! conference further energy and vibrancy.
"Thank you #ADDPLEAD," another attendee wrote on the app. "See you next year!!"
We can't wait.
ADDP would again like to extend our sincere thanks to all of the conference sponsors and volunteers who made this day possible.
Please check out our gallery of photos!