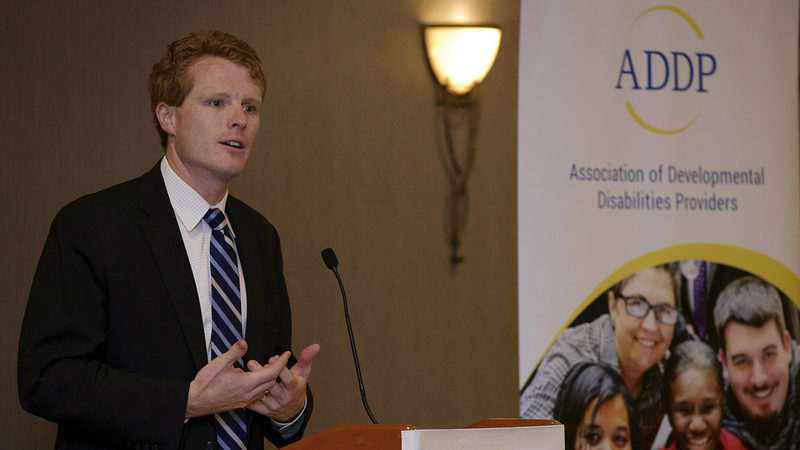 Speaking on Monday, June 12, 2017, to over 100 ADDP members, Rep. Joe Kennedy, III, called upon advocates to enlist their friends in other states to find one more Republican Senator to oppose the Trump/Ryan American Health Care Act, in order to protect Medicaid programs from over $800 Billion in cuts.
Kennedy, introduced at the Monday Disability Forum by longtime disability friend, Rep. Ruth Balser, lamented the fact that the 14 male GOP Senators who have been designing the upper chamber's response to the House passed bill,  have to date refused to share a copy of the bill, and have indicated that the bill will likely not be subject to public hearings.  Kennedy suggested that the bill is making deep cuts to health and human service programs funded by Medicaid in order to pay for nearly $1 trillion in tax cuts to the wealthiest Americans.  The Congressman indicated that most observers believe that out of the 52 Republican Senators, there are two members, believed to be Senator Susan Collins of Maine, and Senator Lisa Murtowski of Alaska, who are likely to oppose the AHCA.  In order to soundly defeat the bill, Kennedy indicated that advocates must convince one more Republican Senator to oppose the bill.
National advocates suggest advocates reach out to anyone they know living in GOP Senate states and urge them to vote no on the AHCA.  Key Senators and their states (in additional to Maine and Alaska) are considered to be:   Senator Rob Portman of Ohio; Senator Bill Cassidy of Louisiana; Senator Shelly Moore Caputo of West Virginia; and Senator Richard Burr, of Alabama.  These are states that are likely to be very negatively impacted by Medicaid reductions and conversions from an eligibility program to a block grant.