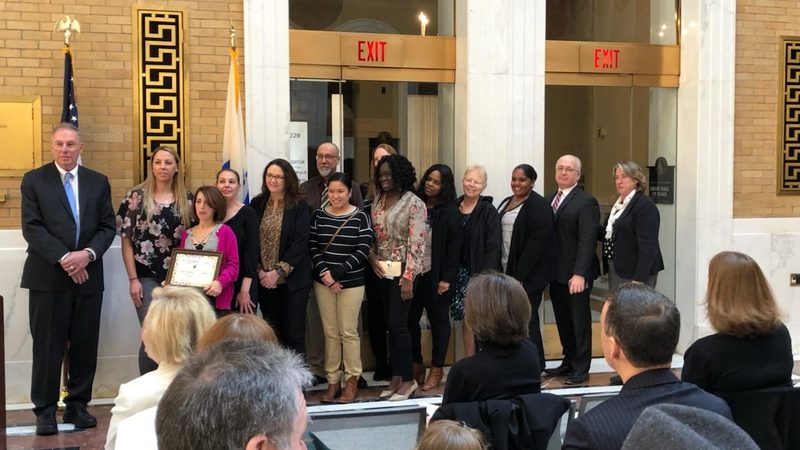 On March 20, 2019, the Massachusetts Department of Developmental Services (DDS) Statewide Advisory Council (SAC) hosted a celebration at the Massachusetts State House, which honored several individuals and teams working for providers of intellectual/developmental disability (I/DD) services, including many ADDP members.
The celebration, entitled Highlighting DDS' "Aging with IDD Initiatives," featured a welcome by Christine Shane, PhD, Chair of the DDS Statewide Advisory Council, as well as remarks from Marylou Sudders, Secretary EOHHS; and Jane Ryder, Commissioner, Department of Developmental Services.
The program started with a lovely performance by bell ringers from ADDP member, Advocates, Inc. During the recognition program, hosted by Jack Foley, Co-Chair of the DDS Central West Regional Advisory Board and Vice President of Clark University, the following individuals/programs from ADDP member agencies were among those honored:
Dan "Danny" McDonald & Kitty Curtain (Nonotuck Resources): For a special and unique shared living partnership they have shared for over 25 years.
Dorothy Anderson's Team (Arc of Opportunity): As a team, they collaborated so that a DDS individual can maintain a safe, clean, lovely, warm and cozy home and continue to participate in all her social activities as she grows older.
Work, Inc./Solidaridad: Family Support Center honored for coordinating a weekend getaway vacation to Cape Cod for 10 aging caregivers and their loved ones.
Charles River Center Individual Support Program: Kayla Condon and her team routinely demonstrate great sensitivity, support and respect for the changing needs of those serviced by DDS as they age.
Francis Donahue (Triangle): Frank retired from his day program and enjoys selecting and participating in various activities with staff both at home and in the community.
Road to Responsibility – Residential Division: RTR was honored for their innovation and dedicating in providing services to individuals who are aging.
People, Inc – Read St. Home: Home designed to accommodate the changing needs of many individuals they have been supporting for decades.
ADDP congratulates all those who were honored for their valuable work with individuals with I/DD who are aging.