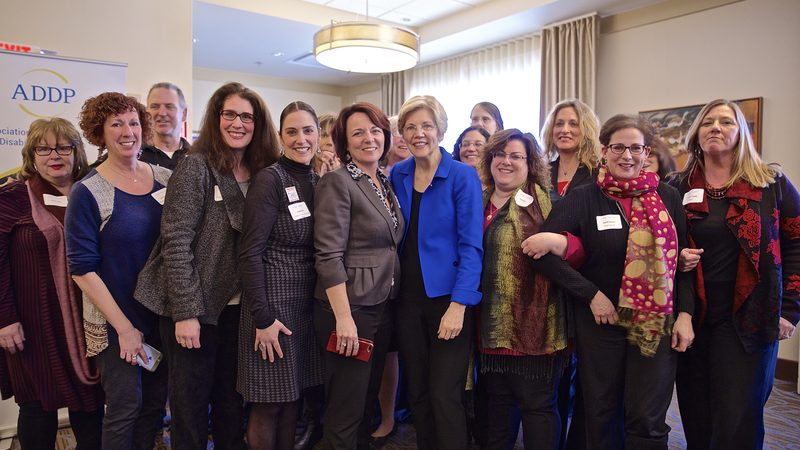 Speaking out Makes a Difference!
Speaking to over 250 members and guests of the Association of Developmental Disabilities Providers, including family members, provider agency directors, self advocates, legislators and friends, U.S. Senator Elizabeth Warren called upon disability advocates to work hard every day to tell Members of Congress and the Trump Administration, why Medicaid is so critical and important to the lives of people with disabilities.
Senator Warren recalled her first job as a special education teacher and reminded the crowd that without Medicaid providing support to community and state programs, thousands of people with disabilities would lose their place in the community, their ability to work and their hope to be part of every day life.  She warned that the Trump budget deeply cutting Medicaid and converting it to a block grant would destroy the infrastructure of disability services like those provided by ADDP member agencies.
Senator Warren also called upon providers, families, self advocates and friends to not give up on preserving essential elements of the Affordable Care Act or of Medicaid, emphasizing how public outcry against draconian Administration actions is being heard in Washington.  She noted the support of the full Massachusetts Congressional Delegation for disability and human service concerns but called upon Massachusetts citizens to contact their friends in other states and to use their personal networks to lobby other federal legislators, particularly those who are members of the Republican Party.  She noted that many key Republicans share anxiety over the Trump budget and other policy positions and need reinforcement from their own constituents.
ADDP is working with our Ancor, our national association to protect Medicaid.  To send a message to Congress, click here, and share with your friends and family around the country.